Demolition Contracting Services Near Valley Forge, PA
---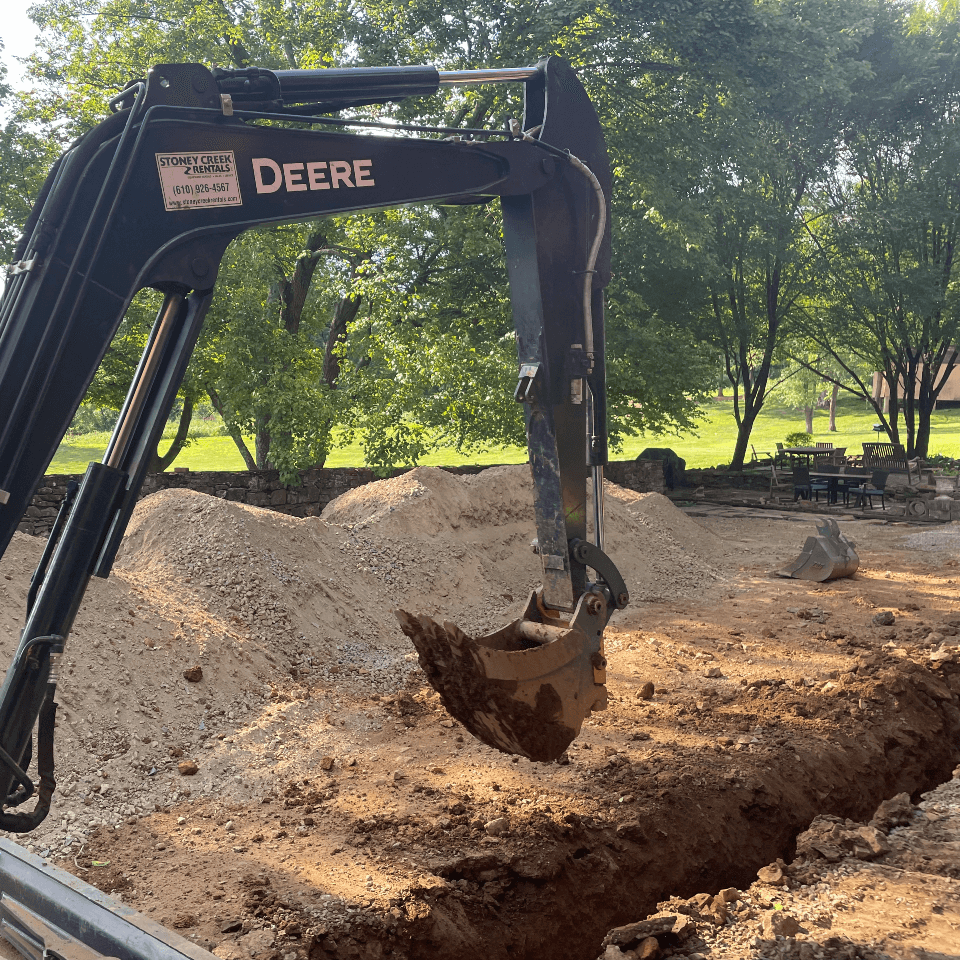 The demolition services team at T.A. Industries have been professionally destroying structures for their clients in the Valley Forge, PA area since 2017.
T.A. Industries has successfully completed several complex, multi-step demolition projects within the Valley Forge, PA area. Each of our unique clients receive best in class demolition services that include a preliminary project hazard assessment and accompanying mitigation plans. Our previous demolition contracts range from small shed removals to entire building demolition projects in excess of 2200 square feet.
Any company offering demolition services can provide minimally sufficient site hazard assessment and mitigation plans. Potential future clients should be advised that there is a quantitative metric that ensures future project success, experience. Our team has the professional demolition experience required to accurately assess and mitigate the potential hazards of your next demolition project in the Valley Forge, PA area.
T.A. Industries is a dedicated and responsible demolition contracting team that will take careful consideration and planning steps required to successfully navigate pre-existing on-site utilities. Our team will responsibly ensure on-site underground utilities are properly assessed, surveyed or marked prior to starting demolition work. We strive to create a safe working environment and minimize any required utility service disruptions.
After surveying the site for underground utilities and potential hazards our team begins to assess the size and scope of the project. Next, we create a work order of deliverables for our clients to review. If you are in the Valley Forge, PA area then we encourage you, as we do each of our clients, to make modifications to our initial work order. This empowers all concerned parties to maintain a clear understanding of project goals and tasks. At T.A. Industries, we rely on clearly defined goals to enable our team to define project success. Goals guide our team in producing outstanding project results and achieve the highest satisfaction rates from our clients.
Any demolition service may encounter tasks that prove to be particularly difficult or come with inherent risks. It is part of our process to evaluate how we will resolve any difficult task or create viable solutions to tasks that include varying degrees of risk. Therefore our work order may detail procedures for handling difficult tasks, or include mitigation steps to reduce potential risks. Rest assured our team has a successful track record of demolition projects within the Valley Forge, PA area, that we will gladly discuss with our clients.
T.A. Industries will manage any excess on-site debris and material. We work with each of our clients to determine the most cost-effective and practical solutions for debris disposal. To keep costs of debris removal within target budget, our team will take into careful consideration all available disposal options and present them to our client. Every member of our demolition team has the industry knowledge and professional experience to conduct safe and efficient demolition operations.
The need to hire a professional demolition contracting team can be a planned or unplanned event. Examples of planned events from our past clients include but are not limited to: site and building expansions, home renovations, or removal of outdated buildings and materials. Some clients have reached out to our expert demolitions services team due to unplanned circumstances such as: fires, flooding, damaging winds and other natural disasters. At T.A. Industries we have experience handling planned and unplanned demolition projects within the Valley Forge, PA area since 2017.
T.A. Industries is currently accepting new project bids and proposals near Valley Forge, PA. Our team works diligently with every client to understand and appreciate the unique challenges and comprehensive goals of each demolition project. We present each client with a bespoke plan that accurately presents the best options available to solve each demolition requirement and task. Our clients trust that T.A. Industries will provide demolition service solutions that emphasize client budget and time constraints. During the planning phase we offer our clients professional expertise regarding the careful consideration of all demolition service options. We intend to present all viable demolition solutions and only recommend the best solution for each unique set of client goals and project tasks. Our team is comfortable presenting and recommending project plans that may include transitioning a project to a renovation effort or electing to rebuild a site from the ground up.
We often provide demolition consulting services within the Valley Forge, PA area. Our team will perform a preliminary analysis of all project goals. Our clients can expect to reach out to us regarding any questions, concerns or quotes on any project that may be considered a candidate for demolition services. T.A. Industries will provide professional, accurate and timely responses to every demolition services client or project manager. We have professionally executed new greenfield projects from start to finish on time and within budget. Our team has assumed leadership responsibilities of previously abandoned demolition projects, and successfully completed the goals of our clients. Some projects have perpetual timelines. Allow T.A. Industries to step in and put your demolition project to a close in a timely manner.
There are a few great demolition companies in Pennsylvania, but if you are looking for 'the best demolition company near me' then give us a call.
Demolition Services Near Valley Forge, PA Include But Not Limited To:
---
Concrete Foundations

Commercial Buildings

Decks

Wood, Composite, PVC, Attached, Detached, Wraparound

Floor Removal

Garages

Standard, Shop, SUV, Oversized, Carports

Gazebos

Rotunda, Pagoda, Pavilion, Pergola

Homes

External, Internal, Demolitions, Renovations, Kitchens, Baths

Mobile Structures

Trailers, Mobile Homes, and RV's

Natural Disaster Recovery

Storm Restoration and Cleanup from fires, floods, rain or wind damage

Patios

Clay, Concrete, Stone Slat, Tile, Sand

Pools

Above-Ground, In-Ground, Up To Olympic-Size Pools

Selective Precision Interior Demolition

Sheds

Sidewalks and Walkways

Concrete, Brick, Tile, Mulch

Stairs

Tank Removal
Currently Accepting New Demolition Projects Near Valley Forge, PA
---
We Could Be Assessing Your Next Project In Valley Forge, PA Within 29 Minutes
Please Call For A Demolition Project Assessment!
The Village of Valley Forge is an unincorporated settlement located on the west side of Valley Forge National Historical Park at the confluence of Valley Creek and the Schuylkill River in Pennsylvania, United States. The remaining village is in Schuylkill Township of Chester County, but once spanned Valley Creek into Montgomery County. The name Valley Forge is often used to refer to anywhere in the general vicinity of the park, and many places actually in King of Prussia, Trooper, Oaks, and other nearby communities will use the name, leading to some ambiguity on the actual location of the modern village. There is a partial re-creation of the historic village from the time of the American Revolution that is located next door, and just within the outskirts of the park. Valley Forge is known by travelers in the Philadelphia area as the westbound control city on Interstate 76 (the Schuylkill Expressway), as it is near where I-76 joins the Pennsylvania Turnpike. This remains, despite no exit being designated for Valley Forge, since the previous exit became the off-ramp to Mall Boulevard, serving King of Prussia.