Excavation Contracting Services Near Sumneytown, PA
---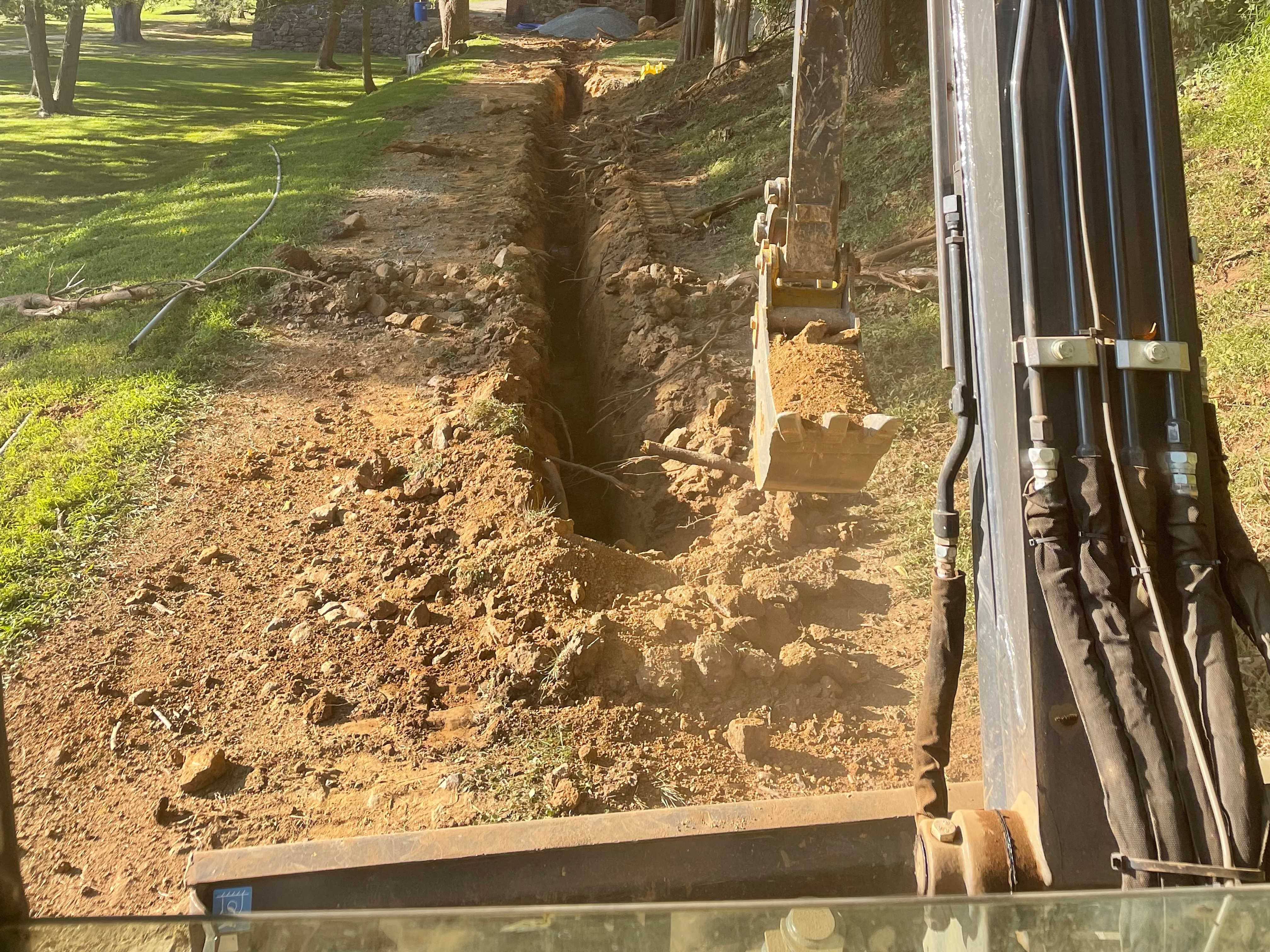 At T.A. Industries, all of our clients get the opportunity to experience our first class excavation project management services. Since 2017, we have successfully completed numerous excavation projects for our clients in the Sumneytown, PA area. Our clients trust T.A. Industries as their exclusive excavation experts because we deliver the best excavation services in the greater Philadelphia region. We are industry leading experts in excavating contracting and provide excavation services that continue to exceed the expectations of our clients. Some of our recent excavation projects include basements and pool excavations. We have the equipment, personnel, and experience to complete your next excavation project on time and within budget.
Excavation and site preparation is a common first step in a large excavation project. Our team creates professional detailed drawings for each excavation project including site dimensions (length, width, and depth). Nearly all excavation projects require state or local permits. T.A. Industries expertly handles any required excavation permit tasks including submissions, revisions and confirming approvals.
As an expert excavation contractor, we understand that each project has a unique set of requirements, timelines, and budgets. Our excavation services include professional evaluations of project complexities and take into account special considerations for potential site hazards. T.A. Industries responsibly and effectively communicates project designs and hazard mitigation procedures with our clients. Our excavation contracting team follows our company culture by making safety a number one priority. All of our professional excavation services operate using industry leading safety practices and procedures.
We are currently accepting new excavation project proposals in Sumneytown, PA and surrounding areas. T.A. Industries provides each project with an ensemble of heavy equipment necessary to successfully complete an excavation job. Common equipment includes but is not limited to excavators, bulldozers, loaders, and skid steers. Our team of excavation experts has the ability to dig, move or haul any material to or from Sumneytown, PA. Excavation is the process of moving earth, by digging, pushing or scraping material in a work site to form a hole or cavity. Trenching is a common type of excavation service that we provide for underground utilities (such as gas, sewer, water, electric), improving water drainage or creating building footers.
Even with modern industrial practices and equipment, each excavation project may contain some inherent risk. Each project site is evaluated through our hazard assessment process. T.A. Industries will manage working with external contractors or services to ensure a safe working environment. Our team works with external service providers near Sumneytown, PA to ensure utilities are properly marked on the excavation site. By taking the time to mark potential underground utilities, we create a safer working environment for our team. Varying soil conditions can also be a hazard for our team members or equipment. When required, our teams will use professional excavation techniques, such as shoring or cut sloping, in order to keep the excavation site from caving in on itself. These processes will reduce risk for our team and ensure the project completion date remains on schedule.
Applications of excavation services like trenching can be used for but not limited to underground utilities, water drainage and house foundations. Underground utilities generally include sewer, water, electric or gas supply lines. If you live near Sumneytown, PA and have standing water in your backyard then you may want to consider working with our excavation team to resolve it. There are three main types of water drainage systems: surface, subsurface and slope drains. All of these water drainage solutions require trenching to divert water away from buildings and structures. When excavating for a foundation, our excavation services team can help with slab, grade pad, pillar and beam style or a full basement.
In excavation there is a process that minimizes the amount of construction labor, commonly referred to as 'cut and fill'. Cut and fill refers to a process where the amount of material (usually soil) being removed (cut) roughly matches the amount of fill needed to make nearby embankments. This excavation technique is commonly used to construct roads, canals, and railways. If you are considering a cut and fill on your next excavation project and are within the nearby Sumneytown, PA area, then we would love to exceed your expectations.
When starting construction on a new building, professionals must consider the best type of footings or foundations to create. Foundations come in many varieties but three common types include crawl space foundations, full basement foundations, and slab on grade (slab-on-grade) foundations. Each type of foundation has pros and cons that should be carefully considered. Crawl spaces commonly range from 2 to 6 feet deep. A full basement foundation is commonly excavated to 8 feet deep. Crawl space foundations may be preferred over full basement foundations to keep excavation timelines short or budgets to a minimum. If you live near Sumneytown, PA and want to build a new footing or foundation then it is best to hire an experienced professional excavation contracting company like T.A. Industries.
There are a few great excavation companies in Pennsylvania, but if you are looking for 'the best excavation company near me' then give us a call.
Excavation Services Near Sumneytown, PA Include But Not Limited To:
---
Backfilling

Common Equipment

Front-End Loaders, Bulldozers, Backhoes, Trenchers, Skid Steers, Dump Trucks, Other Heavy Equipment

Cut and Fill

Dredging

Ponds, Marshes, Lagoons, Reservoirs

Driveways

Earth Removal

Excavation Site-Work

Grading, Compacting (Compaction), Backfilling

Footings

Foundations

Crawl Space Foundations, Full Basement Foundations, Slab On Grade Foundations (Slab-On-Grade Foundations)

Hauling

Land Clearing

Tree Removal, Lot Cleanup

Landscaping

Operators

Front-End Loader Operators, Bulldozer Operators, Backhoe Operators, Trencher Operators, Skid Steer Operators, Dump Truck Operators

Pool Excavations

Swimming Pools, Pool Retaining Walls

Residential

Residential Construction, Residential Excavation, House Excavation, Home Excavation, Basement Excavation, Cellar Excavation

Roads

Building Road, Grading Roads

Sediment Control

Soil Control, Erosion Control

Sidewalks

Site Preperation

Foundations, Roads, Driveways, Sewer Lines, Drainage, Landscaping

Soil

Soil Grading, Soil Smoothing, Soil Hauling, Soil Moving, Removing Soil, Topsoil Replacement

Trench Digging Services

Foundations, Footings, Utility Excavation Services, Utility lines, Sewage pipes, Drainage Pipes, Water Pipes

Underground Utilities

Gas, Sewer, Water, Electric, Underground Pipes

Water Excavation

Trenches, Canals, Drainage Excavator

Water Drainage Systems

Surface Drains, Subsurface Drains, Slope Drains, Catch Basins, Storm Drains, Yard Sloping, French Drainage Systems

Additional Excavation Services

Obtain Excavation Permits, Land Surveying, Contact Underground Service Utility Providers
Currently Accepting New Excavation Projects Near Sumneytown, PA
---
We Could Be Assessing Your Next Project In Sumneytown, PA Within 31 Minutes
Please Call For An Excavation Project Assessment!
Sumneytown is an unincorporated community situated on Route 63 in Marlborough Township, Montgomery County, Pennsylvania, United States. The Unami Creek forms its natural southeastern boundary with Salford and Upper Salford Townships and flows southwestward into the Perkiomen Creek. The historic Kings Highway passed through Sumneytown and the portion from there north to the Lehigh County line is named Geryville Pike today. The village was named for early settler Issac Sumney, who opened the Red Lion there in 1762. 63 starts just to the northwest in Green Lane and proceeds southeastward to the Lansdale/North Wales area as Sumneytown Pike. In 1848, the Sumneytown and Spring House Turnpike was opened to Marlborough and resulted in an influx of tourism from the wealthy families of Philadelphia. This route is designated 63 to Kulpsville today. While Sumneytown has its own box post office, with the zip code of 18084, some residents are served by the Green Lane PO with the zip of 18054.Sumneytown has a hot-summer humid continental climate (Dfa) and is located in hardiness zone 7a. Its average monthly temperatures range from 30.4 °F in January to 75.1 °F in July. [1]